As a kind of memory tool for the farmer, the linear planner makes it possible to see at a glance what jobs need to be done, organise the work, raise professional standards, record performance and make progress. It is offered by the CRA-W as a daily tool for pig breeders.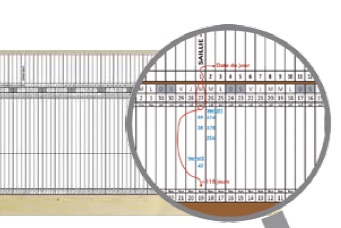 The tool is an annual calendar for effective management of sows in farming, telling farmers exactly when sows will farrow, for example (by recording the insemination date), or when sows and piglets will require special care of any kind.
In practical terms, the tool is a wooden wall-mounted frame (200 x 40 cm) to which are attached two paper strips: one indicating day-to-day events and one for annual recording of activities:
- The event strip is attached at the top of the frame. It includes sow-rearing events such as Servicing-IA, 1st Return, 2nd Return, Farrowing and Weaning, positioned chronologically in one of 180 columns (covering about 6 months). Other events may be added as needed, such as Vaccination or Worming.
-              The annual recording strip shows the days and months of the year. Each column shows a 115-day interval (the period of gestation) between top and bottom, enabling the farrow date of a sow whose insemination has been recorded to be determined instantly. The strip is kept rolled-up on the left of the wall bracket, from where it can be unrolled to the right from day to day. It allows the farmer to record sows' numbers on the insemination date and daily information relating to breeding events throughout the year.
The tool is also of economic value for small-scale farms that cannot afford pig herd software. The construction of the wall-mounted frame with the winding mechanisms and the event strip represents a cost of €70, and the annual recording strip costs around €25.
Assembly instructions and files for printing out are available from the CRA-W on request.