2020 ANNUAL MEETING of the Core Organic Mix-Enable project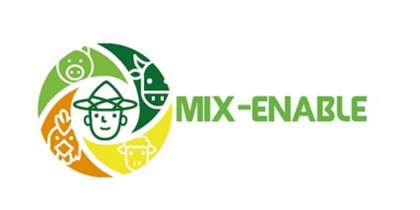 On April 1, 2020, the Core Organic Mix-Enable project celebrated its second anniversary.
This date also marked the opening of the third annual meeting, which lasted 3 days. Initially planned in Namur, it took the form of a virtual conference in response to the constraints imposed by the Coronavirus pandemic.
This annual meeting provided an opportunity for each partner (10 institutions from 7 countries) to present their achievements and take stock of the project's progress. For reminder, the purpose of Mix-Enable is to study organic farms with several breeding workshops. These farms represent a promising alternative to ensure the sustainability of livestock farming. This is because they can facilitate interaction between workshops and create opportunities for synergy. The project aims to determine the relationship between the sustainability of these farms, their structure (utilised agricultural area (UAA), rotation, sizes and types of herd) and the management practices (work organisation, integration/interaction between the various workshops, choice of sectors…).
To achieve this objective, various operations have been carried out since 2018. A literature review was published in March 2020 in the "Agricultural systems" journal. This provides details of multi-livestock systems on the scale of a farm and identifies the limits and constraints of such systems, the conditions for success, and the putative obstacles. A comparison between mixed and specialised systems shows that mixed systems, especially those that combine ruminants and monogastric animals, tend to have higher, more stable incomes, but create a larger exceed of nitrogen. An investigation carried out between 2018 and 2019, involving 118 farms (including 16 in Wallonia), generated extensive data that will feed into sustainability indicators seeking to determine the relationship between the type of species combination, the farm structure, the choices of distribution channels and the efficiency of use of the resources mobilised on the farm. Trials were also carried out at the facility, from which the following lessons could be learned: (1) in sequential grazing, beef cattle gain neither advantages nor disadvantages from grazing after sheep; (2) in co-grazing with bovines, the sheep are all finished on pasture (without bovines, only 10% are finished on pasture); (3) by farming cattle and chickens together, losses of chickens due to predation are reduced.
The coming months will be occupied by continued data processing and dissemination of the project results.
Project subsidised by Wallonia and Core Organic.