BELCAM: Collaborative web platform combining 'farmsourcing' and remote sensing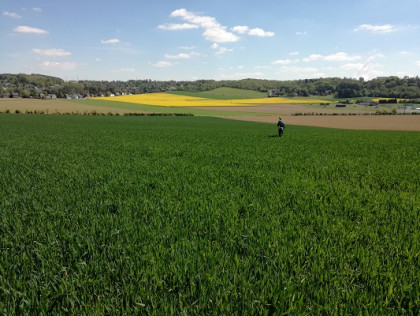 Current innovations in space-based remote sensing are at the basis of a flurry of new platforms aimed at monitoring agricultural parcels in order to advise farmers on cultivation practices. CRA-W is contributing to this through the BELCAM project.
As part of the advent of a new generation of satellites benefiting from increased spatial and temporal resolutions, the European 'Sentinel' satellites enable regular observations of agricultural parcels across a whole area. Surfing on the wave of these technological innovations, the BELCAM (BELgian Collaborative Agriculture Monitoring system for sustainable cropping systems) project started end 2014 and focuses on three major crops in Belgium: winter wheat, potatoes and corn.
One of the original aspects of the project is its collaborative approach based on the grouping of several scientific partners (UCL, CRA-W, ULg, VITO and INRA) and the collection of data from Walloon pilot centres, Flemish technical centres and, above all, Belgian farmers ('farmsourcing').
At the very heart of the system, the BELCAM web platform helps to facilitate the collection of this data from agricultural parcels, and to supply users with a set of constantly evolving products and services in a simple and explicit way, and in real time.
A pioneering group of farmers has had access to it since 2016. They can already visualise the satellite images (Sentinel 2), see the evolution of the biomass in their parcels and compare it to the average situation of parcels in the region, obtain local weather data or even access the early stages of a nitrogen fertilization recommendation module integrating existing tools and satellite information. Much more information will be integrated in the platform later on, such as yield estimations and intra-parcel heterogeneity.
BELCAM is a project financed by the Belgian Federal Science Policy (BELSPO) within the framework of the STEREO III programme.
For more info: www.cra.wallonie.be/fr/les-projets/belcam