Three orchard/arable pilot projects monitored by CRA-W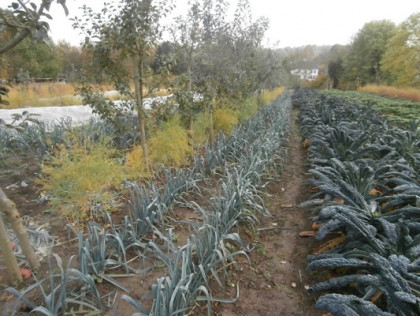 For more than five years, CRA-W has been participating in the design and scientific monitoring of several organic orchard/arable agroforestry systems in Wallonia. These projects are based on recent scientific studies showing that it will only be possible to significantly reduce inputs if new farming systems are designed. It is necessary to look for new agroecosystems in order to increase resilience, favour natural regulation processes and obtain products of a healthier quality that meet economic requirements.
The three examples of pilot projects presented below will enable the orchard/arable concept to be tested in different environments:
'Ferme du Maustitchi' project in Leernes (Fontaine-l'Evêque): fruit trees were planted in spring 2017 in an arable parcel of several hectares. The project was designed and set up according to a participatory research approach involving the producer, CRA-W and the 'Verger plus Durable' group led by INRA in Avignon (Ecodevelopment Unit). This project concerns some 15 varieties of apple, pear, plum and cherry grafted onto semi-vigorous rootstocks in double rows 5 m apart ('MM 111', 'Pyrodwarf' and 'Saint-Julien A').
The 'Jardins de Dounia' project in Corroy-le-Grand: this orchard/arable project was set up in 2014 and extends over approximately 5000 m2. It mainly contains old apple varieties that are disease tolerant and don't require any fungicides (0 plant protection). Depending on their particular robustness, they are either grafted onto a semi-vigorous rootstock ('MM 106') or onto a more dwarfing rootstock ('M9'). The system was designed in partnership with the producer. It consists of single row fruit trees 20 m apart that are closely associated with vegetable cultivation (asparagus and leeks in 2017). The producer set up a CSA (community-supported agriculture) model and wanted to complete their vegetable production with a range of original fruits while creating a more diversified production space.
CRA-W project in Gembloux: the experimental parcel was established in 2014 in an area of approximately 1 ha. The project's initial goal was to create an extensive and more resilient 'orchard' agroecosystem that didn't require any plant protection treatment. The aim is to create an orchard whose soil is constantly cultivated.  The orchard is organised into three double row fruit trees 5.5 m apart with 3 m between the trees in the row. The spaces between these double row fruit trees is 16 m to allow vegetables to be mechanically cultivated. Planting density is therefore 250 trees/ha. This agroforestry orchard is organically farmed and serves as a basis for experimentation and demonstration. Besides the fundamental objective of associating arable farming with fruit trees, it also aims to compare three types of semi-vigorous rootstocks ('MM 106', 'M 7' and 'M 25') and to experiment with a dozen or so varieties of disease-tolerant apple trees. Every year, the cultivation of vegetables are the subject of variety trials in partnership with the Centre Technique Horticole de Gembloux. This year, 10 varieties of green cabbage and Brussels sprout have been tested in the parcel in combination with different types of mulching.