WatchITgrow: a revolutionary leap forward for the Belgian potato industry!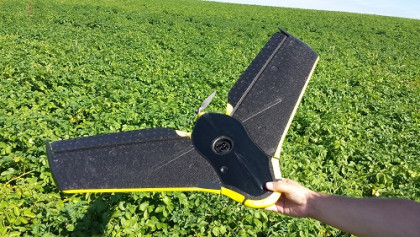 With a potato production rate of around 400 tonnes per 1,000 inhabitants, Belgium is the fourth largest producer in the world. Better still, in terms of yield and volume of frozen products (e.g. chips), our country is number one!
In order to remain at the forefront of innovation, the potato processing industry is always on the look-out for new technologies to improve every aspect of its activity, from production to processing. Better monitoring of crop growth improves productivity and product quality while also improving the supply to factories and reducing economic risks.
WatchITgrow is a new geo-information platform developed for the potato sector based on the joint use of satellite and aerial imagery (drones), meteorological data and results from crop growth models.
With this tool, Belgian producers as well as traders and organisations in the sector can obtain relevant and understandable information, almost in real time, on the growth of different varieties (Bintje, Fontane and Nicola) as well as on the status of crops in season. WatchITgrow can be used to assess the stage of a crop's development and its probable harvest date, as well as the risk of losses in terms of yield or quality, by monitoring temperature and precipitation levels and assessing the general health of the crop. In addition, the tool makes it possible to identify spatial variability between and within plots and estimate yields during the growing season. With this information, potato industry players can identify situations and intervene more quickly and effectively in the event of problems on the ground. In addition, an automatic warning system ensures that an alert is given immediately if an abnormal situation arises (e.g. drought, high intra-plot variability).
The application, available via www.watchitgrow.be, represents in its current form a first step towards a more integrated system including functionalities such as technical information on plots, nitrogen and irrigation management, and, in the medium term, crop health monitoring.
WatchITGrow is the result of three years of research within the iPot project. This project, coordinated by BELGAPOM (the Belgian Federation of Potato Traders and Processors), was launched in 2014 as part of the STEREO III research programme of the Federal Science Policy Office (BELSPO funding). In addition to the CRA-W, its partners include VITO and Ulg (Arlon site).